Gwili Steam Railway
Steam Railway, next open Sat 22 - Mon 24 Dec 2018, £6-£12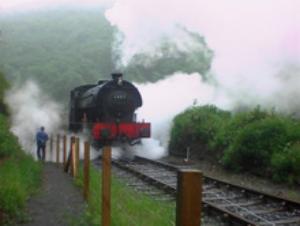 Details
Join the train at Bronwydd Arms Station and take a trip into the past, on a living full-size steam railway. A new 1.75 mile long extension to Abergwili Junction opened on 1 July 2017, increasing the route length to 4 miles.
Rail Route: Bronwydd - Danycoed (2.5 miles); extension to Abergwili Junction 1.5 miles now open.
Opening details
Season Dates
Opening Hours
Sat 22 - Mon 24 Dec 2018
Standard timetable departures from Bronwydd Arms at 11:00, 13:00 & 15:00; see website for special event timetables.
Prices
2018 Standard Service Fares: Adult £12.00, Senior £11.00, Child (3-15) £6.00 (under 3 free), Family (2 adults & 2 children) £31.50.
Prices are for normal services; special events and dining events have different fares.

Directions
On A484, 3 miles north of Carmarthen; follow brown tourist signs.
Parking: free
Accessible by Public Transport: 3 miles from Carmarthen station
Facilities
Children welcome