Coed Crafnant Reserve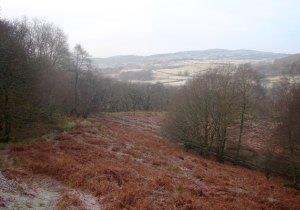 Details
The joy of the 120 acre Crafnant Nature Reserve is its atmosphere. You sense the antiquity of the ancient oaks at the northern (Crafnant) end, encrusted in the greys and greens of lichens, mosses, liverworts and the epiphytic ferns.
Directions
ACCESS : Open at all times off public footpath, but no proper paths through the reserve. It is recommended that you always visit this reserve with someone else.

Turn east off the A496 in Llanbedr on the road to Cwmbychan. Follow this lane as it winds up the Artro valley for about 4.5km. Pass the small hamlet of Pen-y-Bont and on to where the track clearly leads down to the river crossing.

Park on the roadside (NOT down the track), walk down, over the river, past the old barn, cross the stile and up the track until you see the reserve gate ahead as the path bears away left uphill.

Turn off down the rough gated track at Pen-y-Bont leads to a very small parking area for up to 3 cars at grid ref 617290. Very restricted parking up rough track at southern end.