Cardiff Metropolitan Cathedral of St David at Metropolitan Cathedral of St David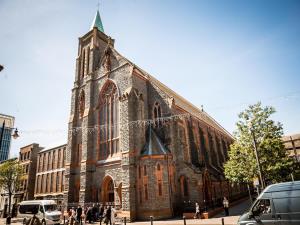 In light of COVID-19, please make sure you check with your travel and activity or attraction providers before travelling. You can get the most up-to-date information on COVID-19 in Wales at the Public Health Wales website.
Details
In the 19th century the number of Catholics increased dramatically with the influx of Irish immigrants who came to workin the docks and in 1888 St David's opened as Cardiff's main
Catholic church and became a cathedral in 1916.