The Little Orme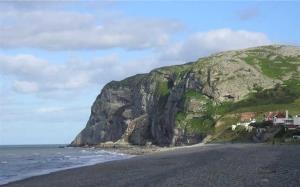 Wales is operating country-wide restrictions and is currently at coronavirus alert level four, with strict measures in place to limit the spread of the virus. Please check on the Welsh Government website before visiting or travelling to Wales or within Wales.
Details
The Little Orme is 463 ft in height. It is one of two headlands that are situated at either end of Llandudno Bay. The Little Orme is to the east and the other larger headland, the Great Orme, is to the west.
Directions
To visit the summit of the Little Orme, from Llandudno promenade continue east along the pavement on the sea-ward side towards Craigside (B5115). Continue up and past the houses and as the ground levels out, go through a kissing gate on your left and follow the North Wales Path on the right. Keep right and after about 400 metres go through a kissing gate. Continue to a large open space with a path turning off to the left and a NWP post ahead. Turn left here and continue ahead for 200 metres to a post. Turn left again to make your way to the trigpoint at the top. Take care near steep cliff edges!