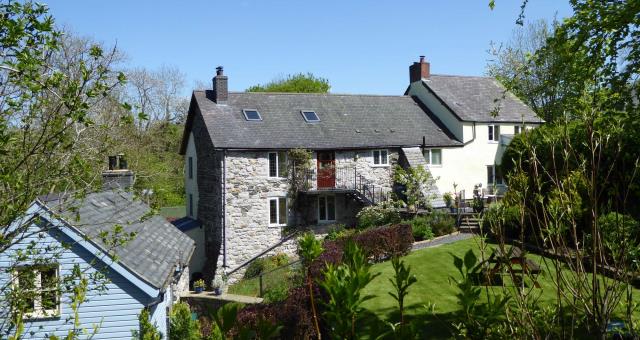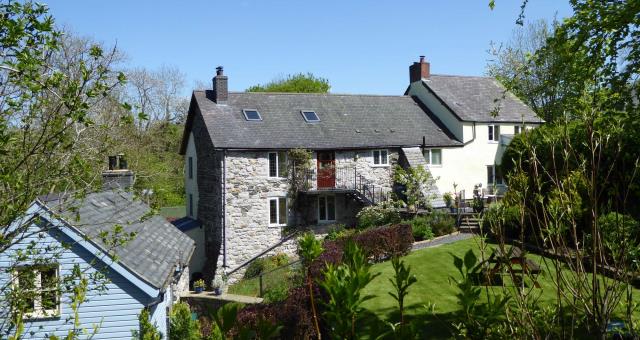 Self-catering with 2 units £385-£575 pupw sleeps 4-5
Details
A woollen mill in former times, Hafannedd has been converted into two comfortable self-catering units - an apartment and a cottage. Set in beautiful gardens on the River Clwyd, Hafannedd provides a perfect place for a relaxing holiday and is within an hour of North Wales' major tourist attractions and activity centres. The Mill (sleeps up to 5), is in the main building and the Cottage (sleeps up to 4) is within the grounds, with a deck overlooking the river. The units have fully-equipped kitchens, central heating and wood-burning stoves. The grounds include a paddock for games, a barbecue, direct river access and plenty of outside seating. Kitchens are stocked with local and homemade basic foodstuffs prior to each guest's arrival and booking is fully flexible. The minimum stay is three nights, except during the summer when one week bookings are preferred. Please contact us directly to find out more.
Two Leisure Centres within 15 minutes drive. Children welcome from any age.
Facilities
Children welcome
Radio
Television
Ironing facilities
Christmas special programme
Private parking
Garden
Building of historical interest
Central heating
Laundry facilities
Freezer
Microwave cooker
Linen provided
Golf available (onsite or nearby)
Cleaning service
Dogs/pets accepted by arrangement
WiFi or internet access
Leisure club (onsite or nearby)
DVD player
CD player
Single sex groups NOT accepted
Hairdryer
High chairs available
Real log/coal fires
Barbecue
Drying facilities
Breakfast available
Washing machine
Two Leisure Centres within 15 minutes drive. Children welcome from any age.
Self-Assessed Accessibility Details
Parking
Parking for Multiple unit properties:

Drop-off point for guests outside entrance

Surface of the car park and pathway leading to entrance:

Solid ie tarmac / concrete etc

Route from the parking area to the entrance:

Has ramp
Access
Level access (no steps/thresholds) or access by ramp or lift to:

Toilet and bathroom
One or more bedrooms
Lounge
Kitchen
Dining room
Outdoor facilities

Good contrast between the floor and walls
Bed/ Bathrooms
Bedroom furniture can be re-arranged if requested by guest
Bedrooms available with non-allergic bedding (ie non-feather pillows)
Bathrooms available with:

Separate shower unit
Bath with shower
Bath

Separate shower unit with support handrails available
Bath with support handrails available
Taps in bathroom with lever handles available
Entrance
Ramp to entrance
Entrance is well lit
Kitchen
Sink taps have lever handles
Seating available in kitchen
Notes
Hafannedd Cottage and apartments in a 17th century woollen mill in North Wales. Access statement. Outside - Hafannedd house and apartments are accessed via sloping tarmac driveway approximately 50 metres long from the A494. There is also a gravel footpath with 20 steps approximately 15m long, also leading to the A494. - The bus stop is situated on the A494 at the top of the path. - Hafannedd is equidistant - about 5 miles - from Ruthin and Corwen. - Car parking is arranged at the top of the drive but visitors are able to drive down to a lower parking area to unload luggage. Disabled guests can use the lower parking area. - There is a grass paddock for guest use, accessed via a sloping ramp. - The property adjoins the River Clwyd and access to the river from the properties is via a sloping driveway (walking surface crushed Welsh slate). - There is good mobile phone reception throughout the property. The Studio - Distance to carry luggage 25m - The Studio entrance is located on the opposite side of the property to the parking and it is therefore necessary to carry luggage around. We are always happy to assist with this, if required. - The walking surface is crushed Welsh slate. - Entry to the Studio is by an external steel staircase with five steps. There is a threshold 120mm high and the door is 860mm wide. - Within the Studio all rooms are on the same level. Doors are all 740mm wide. - Taps are all of the lever type. - The combined bath/shower has a handrail and safety mat. - There is one very large room with kitchen, seating and dining areas, a separate bedroom and bathroom. - The suite has feather cushions. - Worktop height in the kitchen is 930mm. - The kitchen has a sink unit, hob and a combined oven/grill/microwave at worktop height. - Remote control TV and DVD. - The bed linen includes non-feather pillows and duvets with cotton sheets and covers. The Mill - Distance to carry luggage 10m - The Mill is approached down a sloping path about 10m long from the lower parking area. We are always happy to assist with luggage, if required. - The walking surface is crushed Welsh slate. - There is a threshold 130mm high and the door is 1200mm wide. - There is a hallway, main room with seating and kitchen areas, separate dining room (or bedroom 3), 2 bedrooms and bathroom. All rooms are on the same level - All doors within the apartment are 740mm wide. - Taps are all of the lever type. - The separate shower has a step of 200mm and is equipped with a handrail and safety mat. - The separate bath contains a moulded seat for bathing in a seated position. - Worktop height in the kitchen is 930mm. - The kitchen has a standard sink unit with drainer, standard cooker (with drop down door) and a combined oven/grill/microwave at worktop height. - The bed linen includes non-feather pillows and duvets with cotton sheets and covers. - Remote control TV and DVD The Cottage - Distance to carry luggage 38m - The Cottage is approached down a sloping path about 38m long from the lower parking area. We are always happy to assist with luggage, if required. - Direct access to river; guests with young children need to take care. - The walking surface is paving and crushed Welsh slate. - There is a threshold 160mm high and the door is 900mm wide. - There is a main lounge and a kitchen diner downstairs; upstairs two bedrooms, shower room and toilet. - The staircase is 640mm wide with 6 winders. - The minimum door width is 670mm. - Taps are all of the lever type. - The shower has a step of 180mm and is equipped with a handrail and safety mat. - Worktop height in the kitchen is 930mm. - The kitchen has a standard sink unit with drainer, standard cooker (with drop down door) and a combined oven/grill/microwave at worktop height. - The bed linen includes non-feather pillows and duvets with cotton sheets and covers. - Remote control TV and DVD Common Area (shares a common entrance with the Mill at the same level) - A desktop computer with internet connection and printer - The laundry room with standard front loading washing machine - Standard sink unit and drainer - Adjustable height ironing board and iron - Worktop height is 930mm Hafannedd Bryn Saith Marchog Corwen LL21 9SB Tel: +44 (0) 1824 750678 E-mail: info@hafannedd.com Website: www.hafannedd.com Updated 28 May 2010