Mynydd Gorddu Walk at Talybont, Ceredigion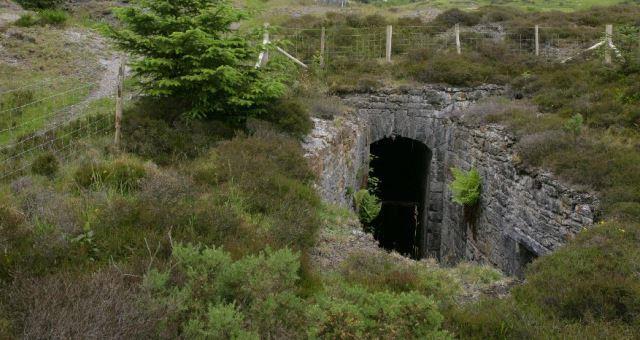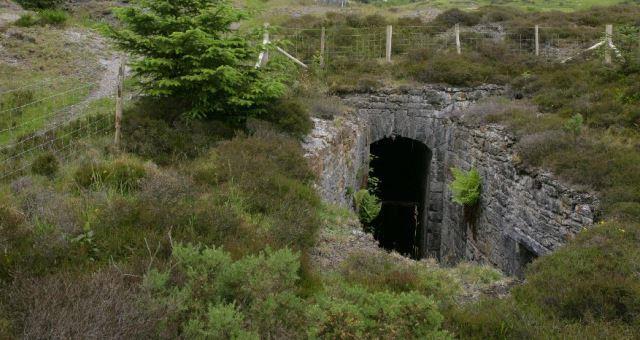 Mynydd Gorddu Walk
Details
Start: Tal-y-bont village green
Grid Reference: SN654 891
Distance: Walk A: 10.5 km – 6.5 miles
Walk B: 9.8 km – 6.1 miles
Grade: Moderate
Terrain: Tarmac road, firm tracks, fields and woodland. Can be muddy in places
Maps: OS Explorer - 213
Refreshments: Black Lion and White Lion pub and village shop.

1. Facing the main road from the green, turn L to walk over the road bridge and then L to follow a narrow tarmac road signposted 'no through road'. Continue along track for 2.1 km to go through a G and across a CG before reaching Penybontpren Uchaf farm. Walk past outbuildings to follow track L then along woodland edge.
2. Cross small stream then R through G. Continue on track A through another G and through a wooden G on the L to follow woodland path through Gs down to a FB next to an old ruin B.

3 Over the bridge, then L uphill. At top turn sharp R up track and through an opening on the RH side of the G. Continue with the fence on your L to go through a wooden G on L C. On through a G and follow track R through another G up to a CG. Turn R along road to reach a finger post on R just before road bends L. Follow track down through three Gs to cross a FB. Go through the G next to the ford, then turn immediately L uphill, ignoring the track ahead. On past marker post keeping fence on L. When the path starts to bend to the R, follow it uphill to reach a track and post.

4. Here you have 2 options
Walk A:
Return via Penpompren Uchaf From the marker post turn R to follow a track through
several Gs before passing outbuildings on your R and a ruin on the L. Follow the track upwards through another two Gs, then turn immediately R through a G to walk across the field to go through a G in the top L corner. Continue uphill to head towards the turbine, then on past a pond on the L which is slightly hidden by rushes and on over a S. Walk ahead with the fence on your L to cross a second S.

5. Turn L to cross the field to climb a S next to a G. Head on past a marker post before veering
slightly R to drop down and through a G to the R of an old farm building. Follow the track before veering R at the boundary fence to climb a S, then veer L to rejoin the track to follow
it down through Gs. Turn R at junction and on down to the farm 2 before turning L to retrace route back to Tal-y-bont.

Walk B – Return through windfarm. Follow the track L through a G. Where the track starts to bend D walk diagonally across the field to go through a G near the top RH hand corner of the field. Go through the G and continue uphill E to reach another G leading on to a farm track. Turn L and walk uphill to go through 2 Gs into a farm yard. Just before the house turn R up a shale path and through a wooden G and walk uphill, to go through a G. Continue in the same direction uphill through a second G, then another and on up through turbines to reach two large Gs at the top LH corner of field F.

6. Cross the track and through a gateway next to a platform area. Along track, but quickly leave it where it bends L to go R through a G then continue ahead through another G. Walk ahead above a marshy area through a G. Cross the shale track and go through a G in the far L side of the field. Along the track for a short distance until you reach a turbine on your R, then turn half L to walk uphill. Continue to the brow of the hill before going downhill to climb a S close to the far turbine in the field. Head down through a G and on to reach a fence corner. Continue to walk downhill with the fence on your L through a G to reach the bottom
of the field, then R to follow the fence to reach a G entering Bwlch y Ddwyallt farm.

7. Turn R here and follow the track to the R through a G to pass a large shed on your L. Just after the shed turn immediately L to walk around the back of the building, passing another large shed on your R. Continue walking down and through a G exiting the farmyard. On along the grassy track at junction turn R through a G, and continue through Gs along track. Cross track to follow the path down. At the bottom, turn R through a metal G and then directly over a S on the L. Head downhill veering R to cross a S in the bottom corner of the field. Walk down a sunken track past houses to the road and turn R to the bridge and Tal-y-bont.
Walk Route: Moderate
Miles: 7
Directions
Plan route using Google maps
Map reference: SN 655895 Lat: 52.48723 Long: -3.98170
On the A487 between Aberystwyth and Machynlleth.
Accessible by Public Transport: 8 miles from Aberystwyth station